Numerous constraints can be encountered when businesses are moving, relocating and installing industrial equipment.  These challenges are especially difficult when heavy equipment lifting is required in confined spaces.  Typically, access to removal site and final point of machinery positioning is hazardous and difficult to manoeuvre.
However, this is the exactly type of situation that Trojan-Mek are experienced in overcoming.
A high volume paper converting company recently contacted our machine moving team to provide a solution to an awkward, heavy equipment lifting problem – here's how Trojan Mek were able to overcome their challenges.
The Challenge: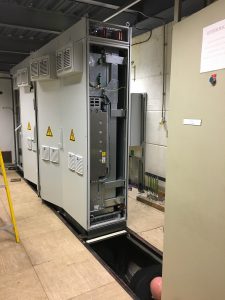 The manufacturer was approaching a production shutdown where New Drive Control Panels were to be installed, to replace existing Drive Panels.
The company needed a heavy equipment lifting solution that could also work in a confined space.  Five panels weighing up to 1.5 tonnes each needed to be lifted to a height of 6 metres to access the control room, then moved through a small doorway, where the panels were to be fitted.
Site constraints meant that limited space at ground level greatly reduced the lifting options.
Access, safety and project timings are always vital, but now needed to be assessed and managed effectively in line with site limitations.
The Solution:
Trojan-Mek were called in to design a solution that could overcome all the obstacles and ensure a speedy installation with minimal downtime.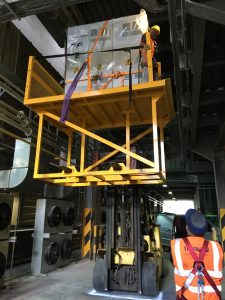 Our consultants designed and built a raised platform to fit a 7 tonne Fork Lift Truck, on which the panels were placed.  The bespoke steel fabrication was designed to specific measurements and was 1 tonne in weight, so total weight lifted by the fork lift was 2.5 tonnes (panel and platform).
Of course, when moving heavy machinery at height, safety is paramount.  Handrails were incorporated into the design allowing operatives to walk on the platform when removing the control panel (with skoots) at the 6 metre level.
Project scope involved moving the panels from storage, lifting them into the control room, then relocating them to temporary storage areas until the electrical supply was disconnected, allowing the old panels to be removed and exchanged with the new panels.
The Outcome:
Using this method with the bespoke steel platform, the new electrical panels were positioned safely and successfully, and all redundant equipment was removed within a 12 hour time frame.
It's just a typical example of how Trojan-Mek solve machinery moving challenges.